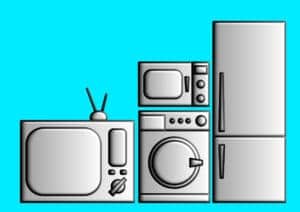 New models of kitchen appliances
Refrigerators 
As you know, these devices are the most common among kitchen appliances. 
Samsung is considered to be the leader in both the development and production of such devices. Among the new especially outstanding devices of this kind, the recently presented models of refrigerators should be noted. These devices differ from analogs by the presence of 8-inch LCD screens RSG309 and RF4289 on the front panel, as well as built-in Wi-Fi modules. Having installed the application developed back in 2012, using the above equipment, the user can make a list of purchases and send them to the store as an order through any social network. 
No less unusual model of the refrigerator was presented by the Haier company. She surprised the audience with a refrigerator with a transparent door. Moreover, most of the time this device looks quite ordinary and has a normal color. The transparent door becomes transparent only after touching, so that for the purpose of viewing the contents of the refrigerator, the user does not need to open it. In addition to this feature, the presented refrigerator model is equipped with a very useful function, consisting in the ability to compile a list of products in the device based on a preliminary scan. Although there are some errors in the software of the refrigerator in question, Haier employees are working to fix them. 
Just like the aforementioned companies, Vestel employees from Turkey decided to innovate in the production of refrigerators by transforming its doors. The model of the Transparent Led TV refrigerator presented by them is equipped, although not as unusual as the ones described above, but still very useful equipment in the form of a TV. 
It should be noted that recently there has been a particular interest in the refrigerator market in unusually designed models. In this regard, most manufacturers of such household appliances chose a less complicated path than equipping their models with sophisticated technical equipment, and instead began to present designer refrigerators that differ from conventional counterparts in special shapes or even just color design. Although, I must say that some of these options are very difficult.
An example for the latter statement is an Electrolux refrigerator, made of multi-colored blocks, due to which it looks like a craft from a designer. 
However, such designer unusually designed refrigerator models are not yet very popular as home refrigerator repairs , as evidenced by the share of sales of such devices equal to 10%, while the rest are refrigerators with a conventional design in white. 
Microwave ovens
LG presented very unusual models of such equipment. A feature of these microwaves, called the Lightwave function by the company, is the ability to use several types of energy for operation, including from charcoal. As you know, food cooked on it is considered the most useful and tasty. It should be noted that the new grill ML2881CP is equipped with the same function. A very remarkable device was presented by Samsung. It combines the functions of a convection oven, toaster and extractor hood. In addition, the interior surfaces of this technique are coated with a dirt-resistant and easy-to-clean bioceramic enamel coating.  Dishwashers
LG has proven itself in this area with the LD-2060 WH, equipped with six washing modes, including gentle at 55 ° C. In addition, this dishwasher is economical in both energy and water. 
Blenders
Haier showed a device with an unusual type of power supply. Its wireless development works by induction of a transmitter connected to the network. The especially compact MSM6 ErgoMixx blender was presented by Bosh.
Kettles
Phillips has advanced in this area, presenting a kettle that can not only boil water, but also, by purifying it through a 3 Clear Filter, reduce the lime content by 3 times.
Multicooker
One of the special devices in this category is the Stadler Form Chef One model, equipped with 12 programs, among which there is a "3D heating" function that ensures even heating of food. 
Hobs
An unusual device is being prepared by Miele. It is represented by a surface that is completely a heating element. This panel is equipped with a touch screen for displaying objects placed on it and regulating the temperature.