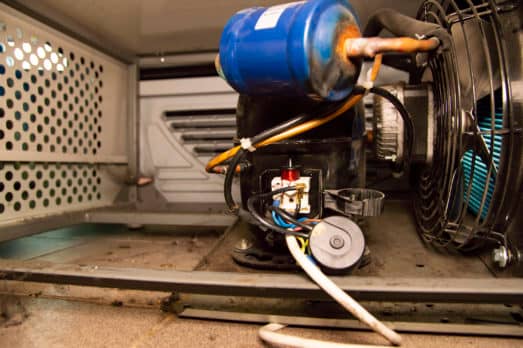 Fundamentals of trade refrigerators repair
As a rule, the repair of commercial refrigerators is, first of all, planned work and preventive measures aimed at monitoring the operability and diagnostics of all components of the unit system.
Service technicians periodically carry out technical and maintenance work. Service engineers carry out installation and commissioning, as well as related operations for the efficient operation of equipment.
If equipment breakdowns occur in equipment, this usually leads to serious consequences in the form of rapid product damage and other material losses. In order to prevent this from happening, a trading company needs to take a responsible approach to an organization specializing in the repair and maintenance of refrigeration units. The staff of this organization must be attended by highly skilled experienced craftsmen who are equipped with suitable tools and diagnostic equipment.
Detection of equipment malfunction is a set of procedures for replacing worn out components and components, as well as restoring the operation of refrigeration equipment as a whole.
Repair work is carried out both at the location of the equipment and at various enterprises engaged in the maintenance of industrial refrigeration units.
Repair operations related to the replacement of large parts
In addition to major manipulations, repairing refrigerators may include replacing worn and damaged parts.
If component parts of the system come out of working condition, then it is more correct to replace them with branded, original parts.
Summarizing the above, it is worth noting that the guarantee of long work of commercial refrigeration equipment includes systematic maintenance, preventive maintenance and compliance with the rules for operating the equipment.
Basics of repair of commercial refrigeration equipment
If the refrigeration equipment malfunctions, the compressor electric motor is removed from the installation to diagnose its further performance.

In a condenser, the heat transfer surface must be periodically washed out and systematically cleaned of dirt and dust.

Obligatory points are checking of electric starting equipment, tightness of the system and level of coolant.

In the event of violations of the system, it is either replaced or repaired.

Diagnostics of all equipment can also be carried out at the request of the enterprise and sent to the selected customer service for repair. In these conditions it is assumed not only repair, but also full restoration of working capacity.

The main and, perhaps, the main cause of breakdowns leading to repair, should be attributed to the failure of the compressor unit.