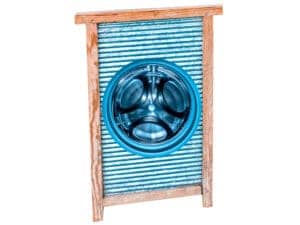 Choosing a washing machine
Choosing a washing machine is quite a challenge. In household appliance stores, as a rule, a wide selection of well-known brands of washing machines is presented - Bosch, Samsung, Gorenje, Indezit, Lg ... All these manufacturers do not require additional recommendations, here the choice remains for the buyer, the main functions of washing machines are almost the same, so on the parameters - built-in furniture or freestanding, with frontal or vertical loading, with or without drying, spin speed, the amount of load of linen, as well as remember that the more additional functions - to It's a machine, so if you don't see expediency in some of the possibilities of a selected washing machine, then there is no need for extra financial costs.
Loading the washing machine  can be frontal and vertical, the mass loading from 3.5 kg to 8 kg. A front-loading machine fits better into the furniture range, and a top-loaded laundry machine saves you space in a limited area of ​​the bathroom. As for the weight of the load, then for an average family of four people a weight of 5 kg will be enough.
Spin the washing machine is  determined by the number of revolutions of the drum driven by an electric motor per unit of time - 1 minute. There are up to 1500 rev / min., Such a spin mode is applicable only for heavy linen, the most optimal 800 rev / min.
Drying a washing machine  is not something that would be a necessary function for an additional 30% of the cost, but you have to agree that there are not disputable advantages in it, especially in winter when you have to wait a week for the laundry to dry on the balcony.
A washing machine like any household appliance is subject to wear, if your washing machine has problems, then our home appliance repair in Kiev is always ready to come to your aid.